Children's Center
In February 2018, Lakefront Wellness Center designated the third floor of our branch office in Oconomowoc as the Children's Center. We offer a carefully designed play therapy room and a kid friendly waiting room.  The play therapy room is set up for painting, arts and crafts, therapeutic games, dolls, etc.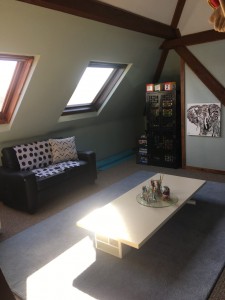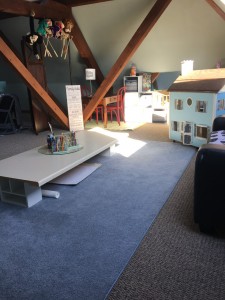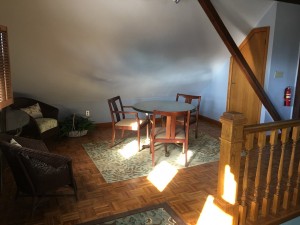 Play Therapy
It may be helpful to show these photos to your child before the initial meeting to help ease some anxiety about coming to talk to someone.
Play Therapy is to kids what counseling or talk therapy is to adults. Children use play as their natural language and the toys are their words. Play therapy allows a child to change the way they think about, feel toward, and resolve their concerns.
Play Therapy is effective for a wide variety of problems or concerns that affect or will affect the way a child functions at home, at school, or in the community. Psychotherapists can be specially trained to strategically use play and specific toys to address a child's needs when the child does not have the verbal language to express their thoughts and feelings.
Play Therapy is especially appropriate for kids ages 3-12. For older kids and teens, play provides a safe distance from problems and allows expression of thoughts and feelings. Play techniques for older kids and teens include sand tray therapy, expressive arts (painting, drawing, creating, sculpting, acting, singing), or activity therapy (constructing, building, balls, games, etc.) The Play Therapy room is equipped with specific items that facilitate cognitive and emotional processing and development.
What can play therapy do for my child?
Develop responsibility for behaviors
Develop problem solving skills
Learn to communicate with others
Develop respect and acceptance of self and others
Stimulate creative thinking and exploration
Express emotion
Relieve stress
Cultivate empathy
Enhance social skills
Develop assuredness about personal abilities
Testing Center and Resource Library
In January 2018, Lakefront Wellness Center updated the resource library and testing center housed on the second floor of Oconomowoc Branch. The resource library is now Dr. Beth Johnson's office. It makes it convenient for her to host family therapy, continuing education and staff meetings. We also host groups and parent educational meetings in the Resource Library.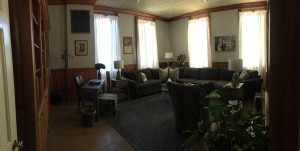 Wellness Topics
Printable Library
Links to Informational Articles
Neurologist Speaks Out About the Importance of Gut Health for Prevention and Treatment of "Incurable" Neurological Disorders READ ARTICLE