Secure Choice Counseling, LLC

---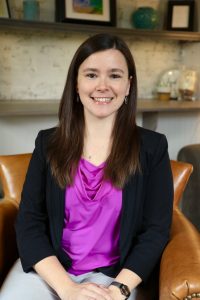 Practice Philosophy
"My style is professional and relaxed. It is important for me to show empathy, genuine concern, use humor, and provide a calm and trusting environment. I work as part of a team with my clients to discover what the best approach will be for them in their lives. In this regard I believe in approaching therapy in a holistic way. I believe strongly in the power of choice. Every person faces times in their lives when choices are difficult or unclear. I work together with clients to utilize their worldview and strengths to uncover and bring clarity to various choices regardless of the issue they face. This approach fosters hope and empowerment."
Areas of Expertise
Stacy has experience working in a community-based outpatient setting. She has worked with individuals across the lifespan including children and older adults. Her areas of interest include assisting individuals who are living with symptoms of depression, anxiety, mood disorders, substance abuse and addiction, and trauma and abuse survivors. She also focuses on helping individuals facing life transitions (e.g. moving away from home, entering college, marriage, divorce, job or career change, retirement), those with sexuality or gender identity concerns, and military service members and their partners/families. Stacy also has a unique background as a nanny which aids her work with parents and children/adolescents.
Education & Credentials
University of Wisconsin-Milwaukee, M.S. Educational Psychology
University of Wisconsin-Milwaukee, B.A. Communications
Board Certification
Licensed Professional Counselor
Member of the American Counseling Association
Personal Interests
Stacy is a life-long Wisconsin resident who values time with her family and friends. Her interests include reading, organizing, attending concerts and visiting new cities.
---
Secure Choice Counseling

is independently owned and operated by Stacy Hoag, LPC.  She can be reached at 262-251-1112ext. 720 or by email at: Securechoicecounseling@outlook.com